Apple iLife 09 - Retail DVD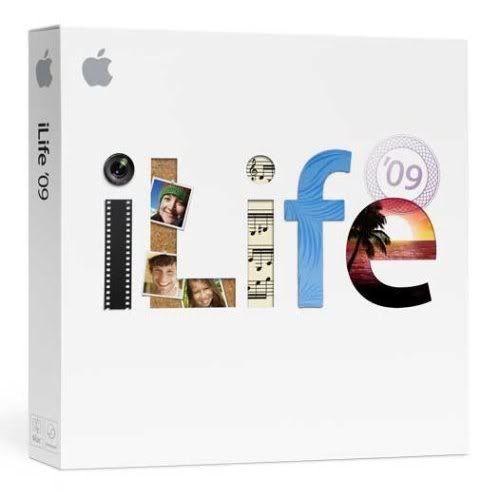 Apple iLife 09 - Retail DVD l 4.44Gb
About iLife ?09
iLife ?09 makes it easier than ever to get the most out of your photos, movies, and music on your Mac. Organize and search your photos by faces and places in iPhoto. Make a movie in minutes and edit with precision in iMovie. Learn to play an instrument or record your own music in GarageBand. Create a stunning website and publish it anywhere with iWeb. iLife ?09 also offers a variety of convenient Internet sharing options, including direct publishing to MobileMe, Facebook, Flickr?, and YouTube?.
What?s new in iLife ?09
iPhoto
? Faces: Easily find photos of the people in your life
? Places: Explore your library based on where you took each photo
? Themed slideshows with multi-photo layouts, titles, and captions
? Integrated Facebook and Flickr support for direct photo publishing
? Improved, more powerful photo-editing tools
? Beautiful travel-themed photo books complete with maps of your itinerary
iMovie
? Precision Editor: Just skim and click to refine your edits
? Advanced drag-and-drop editing with pop-up menu control
? New titles, transitions, and effects, plus slow, fast, or reverse motion
? Dynamic themes with coordinated titles, transitions, and end credits
? Animated travel maps customized to your travel videos
? Video stabilization reduces camera wobble and shake in your footage
? Full-screen Library browser uses Cover Flow to browse your entire library
GarageBand
? Learn to Play: Basic Lessons, a revolutionary way to learn guitar and piano
? Learn to Play: Artist Lessons, with songs taught by leading artists (sold separately)
? New guitar features including redesigned amps and new stompbox effects
? New Magic GarageBand lets you mix, jam, and record in full-screen
iWeb
? Drag-and-drop iWeb Widgets to easily add dynamic content to web pages
? Facebook notifications let friends know when you update your site
? Integrated FTP for publishing your website virtually anywhere
? Independent site management for managing multiple websites
Contents
iLife ?09 contains iPhoto, iMovie, GarageBand, iWeb, iDVD, and QuickTime; electronic documentation.
iLife ?09 requirements
Hardware
Mac computer with an Intel, PowerPC G5, or PowerPC G4 (867MHz or faster) processor.
? iMovie requires an Intel-based Mac, Power Mac G5 (dual 2.0GHz or faster), or iMac G5 (1.9GHz or faster)
? GarageBand Learn to Play requires an Intel-based Mac with a dual-core processor or better.
512MB of RAM; 1GB recommended. High-definition video requires at least 1GB of RAM.
4GB of disk space
DVD drive for installation
Software
Mac OS X 10.5.6 or later
QuickTime 7.5.5 or later (included)
Flickr service is only available in select countries.
GarageBand Artist Lessons are sold separately; only available in select countries.
iWeb requires Internet and web server access (MobileMe recommended).
Some features require Internet access and/or MobileMe, additional fees and terms apply.
More Info :
Code:
http://www.apple.com/ilife/
Link Download:
Code:
http://www.fileserve.com/file/arYc5hD/MyLifethisYear.part01.rar
http://www.fileserve.com/file/dyQgAYC/MyLifethisYear.part02.rar
http://www.fileserve.com/file/mdtdkck/MyLifethisYear.part03.rar
http://www.fileserve.com/file/CCWf2ym/MyLifethisYear.part04.rar
http://www.fileserve.com/file/ZeXXxQd/MyLifethisYear.part05.rar
http://www.fileserve.com/file/fKV6vTG/MyLifethisYear.part06.rar
http://www.fileserve.com/file/PqW2P7n/MyLifethisYear.part07.rar
http://www.fileserve.com/file/D66TW4m/MyLifethisYear.part08.rar
http://www.fileserve.com/file/VjG3jM4/MyLifethisYear.part09.rar
http://www.fileserve.com/file/6dbfVfe/MyLifethisYear.part10.rar
http://www.fileserve.com/file/fBKTbJu/MyLifethisYear.part11.rar
http://www.fileserve.com/file/tVhGSyz/MyLifethisYear.part12.rar
http://www.fileserve.com/file/uhYzpG5/MyLifethisYear.part13.rar
http://www.fileserve.com/file/kRMPtfQ/MyLifethisYear.part14.rar
http://www.fileserve.com/file/hYyuEs5/MyLifethisYear.part15.rar
http://www.fileserve.com/file/K3uA9Ye/MyLifethisYear.part16.rar
http://www.fileserve.com/file/BHP3w4a/MyLifethisYear.part17.rar
http://www.fileserve.com/file/S7G7k7U/MyLifethisYear.part18.rar
http://www.fileserve.com/file/7U9EMJt/MyLifethisYear.part19.rar
http://www.fileserve.com/file/zM6XBJ9/MyLifethisYear.part20.rar
http://www.fileserve.com/file/quAAXmY/MyLifethisYear.part21.rar
http://www.fileserve.com/file/aDGTNAV/MyLifethisYear.part22.rar
http://www.fileserve.com/file/VsrMAMA/MyLifethisYear.part23.rar
http://www.fileserve.com/file/R6qmNdb/MyLifethisYear.part24.rar